Sale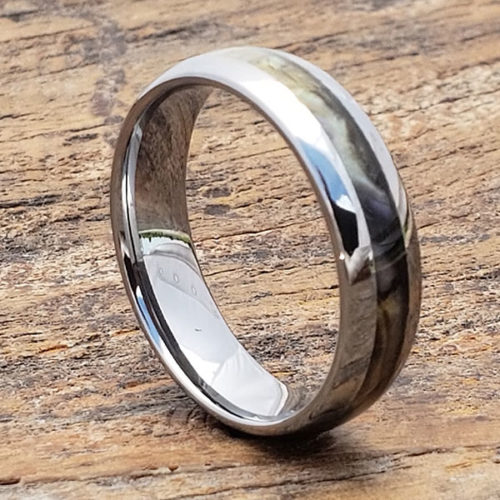 FREE SHIPPING & RETURNS

Forever Metals offers Free shipping. 30 Day hassle Free returns and exchanges. Express shipping is available. All products come with a lifetime warranty. Rings are comfort fit and run true to size. Items ship when ordered prior to 3:00 PM central standard time. Custom rings and laser engraved orders please allow 2 weeks for manufacturing. Free wooden ring box with each purchase.
Regal Abalone Mens Inlay Shell Rings
availability:In stock
sku: FM6AS790
Product Description
The Regal 6mm shell inlay ring is a best selling ring style.  The colors of blue, green, grey and purple swirl together to form the perfect abalone shade.  The Regal is available in several widths to compliment wedding bands.
The Metal that is used is a Nickel Binder that is higher in quality in comparison to cobalt. Cobalt is a inferior binding agent which may darken the color of the ring over time. Cobalt is most common in lower cost tungsten rings. This is due to the rings being mass produced in countries other than the United States.
Also available in 8mm men's inlay abalone shell rings.
Additional Information
| | |
| --- | --- |
| Ring Size | 3 3/4, 4, 4 3/4, 4 1/2, 4 1/4, 5 3/4, 5 1/2, 5 1/4, 5, 6, 6 3/4, 6 1/2, 6 1/4, 7 3/4, 7 1/2, 7 1/4, 7, 8, 8 3/4, 8 1/2, 8 1/4, 9 3/4, 9 1/2, 9 1/4, 9, 10, 10 3/4, 10 1/2, 10 1/4, 11 3/4, 11 1/2, 11 1/4, 11, 12, 12 3/4, 12 1/2, 12 1/4, 13 3/4, 13 1/2, 13 1/4, 13, 14, 14 3/4, 14 1/2, 14 1/4, 15 |
| Ring Finish | 6mm Abalone Shell Inlay |