VARIETY OF RING WIDTHS TO SUITE COMFORT NEEDS
2mm Ring Width | 3mm Ring Width
Forever Metals has made ring styles in thinner widths to accommodate women of all ages and all finger sizes. Women traditionally wear thinner width rings then men. Forever Metals ring styles Eclipse and the Metropolis are both found in stock in 2mm width.
---
Left – Women's Hand in 4mm
Men's Hand in 4mm – Right
4mm Ring Width | 5mm Ring Width
Forever Metals has 4mm and 5mm ring widths in stock to accommodate those that want a thinner width ring, yet they want it wide enough to visualize the design. More intricate designs are more easily visible at wider width rings.
---
Left – Women's Hand in 6mm
Men's Hand in 6mm – Right
6mm Ring Width | 7mm Ring Width
If you are a newly wed or engaged to be married, but don't want to start off with this giant piece of metal on your finger, then a great starting ring width starts near 6mm and 7mm widths. They are by far the most popular starting rings for newly wed couples accommodating both men and women.
---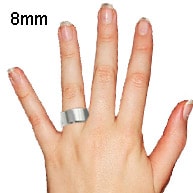 Left – Women's Hand in 8mm
Men's Hand in 8mm – Right
8mm Ring Width | 9mm ring width
Bored of your current ring? Try upgrading to a 8mm or 9mm width ring. They are the perfect marriage of surface reflection and ring width comfort. Plenty of surface space to show off intricate design and catch light from all directions.
---
Left – Women's Hand in 10mm
Men's Hand in 10mm – Right
10mm Ring Width and Beyond
10mm Ring Widths were originally designed as the widest rings in the collection. Forever Metals collection has gone beyond this ring width. 10mm and 12mm ring widths are very common in the marketplace. Find 14mm and 16mm ring widths in Forever Metals collections. Be cautious, any rings found over 16mm width stand the chance of compromising comfort. Make sure your fingers are long enough to be able to bend your finger at the knuckle.
---
Men's Hand in 12mm – Right
Choosing the Right Ring Width For Comfort
Forever Metals manufactures rings as thin as 2mm and as wide as 16mm in width. We carry a large range of widths to accommodate virtually every shopper that come to our website. The most common widths for women range from 2mm to 6mm in width. This range of widths are thin enough for smaller hands to have all day continuous comfort. The most common widths from men range from 6mm to 12mm however many go larger. Forever Metals rings are manufactured with a comfort fit and run true to your normal rings size. Check out our examples on how several of our widths look like on a finger. We have two categories to allow both men and women to get an idea what width is perfect for them. If you would like to learn more about tungsten, here is what-you-need-to-know-about-tungsten-rings. Note that this is just several of our widths we carry across our collection. If you would like an example of a width we do not have listed please contact Sales and we will get an example right back to you.
Last Updated: October 20, 2018