MOST POPULAR RING INLAYS COMPARISON
Genuine Redwood Wood Inlay
The Genuine Redwood Wood Inlay is real wood with a protective clear surface to prevent damage to the wood. This wood inlay ring is an elegant change from the classic ring and gives an appearance that is eye catching.
Precious Metal Inlay
Precious metal inlays have approximately 2 grams of precious metal, 2mm wide and 2mm deep. Forever Metals can make the inlay wider or thinner depending on the proportion of the ring. Precious metals include silver and gold.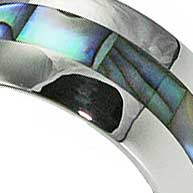 Abalone Shell Inlay
Shell inlays are manufactured with genuine shell. Shell can be ordered in Abalone shell, pearl white shell or Black shell. Shell has high light reflecting properties that bring out natural beauty. Shell inlays are not warranted do to shell being fragile.
Black Carbon Fiber Inlay
Black Carbon fiber inlays are Forever Metals most popular fiber inlay rings. Carbon Fiber can be customized to order specification. The advantage of darker colored carbon fibers is that conjoining seams are not as easily seen when joining of two ends of the fiber.
White Carbon Fiber Inlay
White Carbon fiber inlay are one of the more popular lighter colored carbon fibers. Lighter colored carbon fibers typically will show a slight seam formed by joining of two ends of the fiber.
Smooth Ceramic Inlay
Ceramic inlays are extremely hard and are very resistant to scratching. Ceramic can be custom ordered in while or black. Ceramic inlays are the same color throughout the thickness of the inlay, so if you do happen to scratch the surface, the contrast isn't as noticeable.
Textured Ceramic Inlay
Textured Ceramic Inlays can be custom order to your specifications. Please email Forever Metals for further details.
Brushed Inlay
Brushed Inlays give a contrasting appearance of an inlay, however they are flat to the surface. Brushed inlays are inexpensive and can be customer ordered in three different finishes, satin brushed, matte brushed or sandstone brushed.
Laser Inlay
Laser Inlays are much like brushed inlays that are flat to the surface for appearance only. Laser inlays will not chip or flake and will last a lifetime.
Tungsten Ring Inlays
Ring inlays combined with with the body of a tungsten ring gives you the perfect marriage for a tungsten wedding band. The tungsten carbide is extremely durable and the inlay provides that desirable contrasting finish. Last Updated: June 14, 2016