Ceramic Rings
Tungsten rings are formed with a main aim to provide a full comfort zone to the wearer. They are finely polished and shaped to make them look elegant and beautiful. Tungsten as a metal has a lot of positive qualities which make it preferable over other metals. Innovating tungsten designs is desirable as it has a great potential to satisfy the demands of every customer. Forever Metals has developed a full fledged range of rings and unique wedding bands.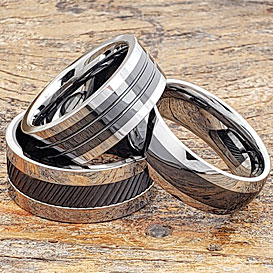 CERAMIC AND BLACK CERAMIC INLAID TUNGSTEN RINGS
The black ceramic inlay on the surface gives a shining glossy look. Tungsten and ceramic complement each other completely because of common properties found in them. Both are durable and lasting and shall decorate your hand always.
There are rings which are suitable for daily wear and fashion wear. For daily usage you need a ring which does not lose its luster, and you need it to stay polished for years to come. Tungsten carbide with black ceramic inlays are available for daily wear and fashion wear without compromising on beauty and quality. The designs are perfectly shaped to give full comfort.
Adding variety to the combination of black ceramic and tungsten there are rings with polished surface forming designs at the center. This style is called mirage style as at once the polish is visible and it keeps on shifting with the position of your ring. In the polishing range the rings with a surface encircled with rings of black color whether together or set apart with layers also gives a royal look.
ALL CERAMIC STYLES
The black zirconia ceramic ring Manhattan is brushed to give the ring a finishing and broader look. The edges are a little folded to fit exactly into the knuckles and stay comfortable for a long duration. The Manhattan all ceramic styled rings are black throughout and completely hide any long term wear that might occur. Manhattan rings are mould in a shape of dome rings to give a complete sleek look to the hand. The Plato is available in a range of sizes in black ceramic and feature step down edges which differ from Forever Metals Manhattan style. The all ceramic styles boast exquisiteness and durability. Not convinced on ceramic, be sure to read Do ceramic wedding bands break easily? to put your fear to rest. Last Updated: October 21, 2018